Welcome to Uttlesford Wildlife.
This website is provided to give information about the wildlife that can be found in the rural countryside of Uttlesford District, around and between Saffron Walden, Great Dunmow and Stansted in north-west Essex. To find nature reserves and other sites of interest go to Places to Visit.
Although, in common with the rest of the country, this area has suffered from the impacts of development and intensive farming, there are still many places where rare species and attractive habitats can be found. The picture in our logo is Crested Cow-wheat, and Uttlesford is now one of the last parts of the UK where this species can be found. You can read more about this species on the Saffron Walden Museum website.
Ancient woodland with Oxlips, and chalk grassland roadside verges are specialities of the area. There are also marsh sites in our river valleys, and traditional orchards, all offering opportunities to see many wildflowers including orchids.
---
Help a Hedgehog today
Our gardens are an important habitat for Hedgehogs, which have suffered a massive population drop over the last few decades. Watch this cute video to see how to make your garden Hedgehog friendly. And if you are driving at night and see a Hedgehog on the road in front of you, stop the car and help it get to the side of the road !
More Information from –
---
Picture Gallery
A set of photos taken in this area to show the changing seasons.
Bluebell Wood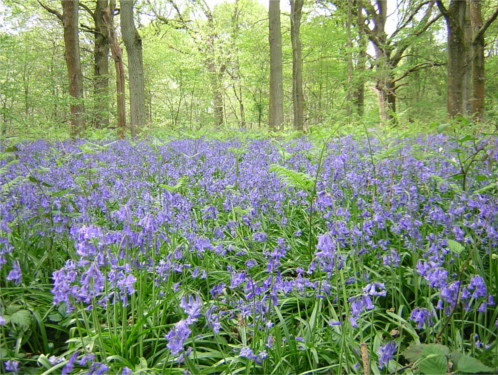 EARTH OVERSHOOT DAY
Earth Overshoot Day 2020 landed on August 22 more than 3 weeks later than last year. Earth Overshoot Day marks the date when humanity's demand for ecological resources and services in a given year exceeds what Earth can regenerate in that year. COVID-19 caused humanity's Ecological Footprint to contract, demonstrating that shifting resource consumption patterns in a short timeframe is possible. However, true sustainability that allows all to thrive on Earth can only be achieved by design, not disaster. Read More here https://www.overshootday.org/newsroom/press-release-june-2020-english/