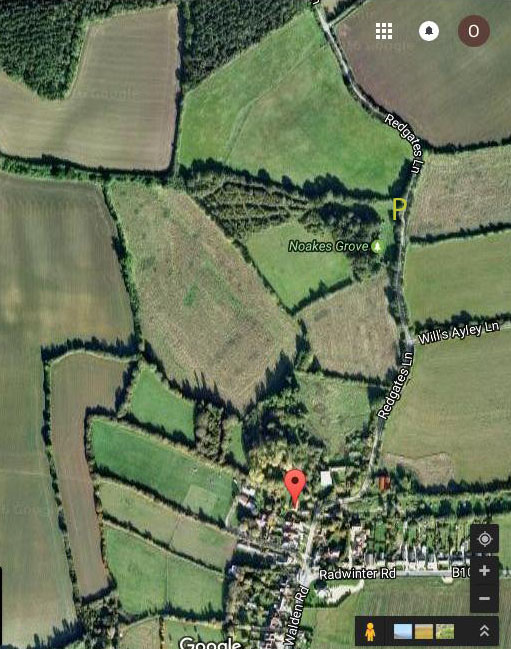 A nature reserve close to Sewards End, The yellow "P" on the map marks the gated (not locked) entrance to car park. The red marker shows where "CB10 2LW" will get you using a satnav. Then go north on Redgates Lane.
Noakes Grove belongs to Organic Countryside Community Interest Company: a not-for-profit organisation that anyone may join as a "friend" (annual subscription £5) or full (life) shareholder (£100 minimum). We aim to manage the reserve sustainably, with a positive impact on wildlife. The dedicated website for Noakes Grove is at http://organic-countryside.co.uk
Please help fund Noakes Grove during these difficult times
We can't run any fund-raising events at present but we still have to pay the regular costs of keeping Noakes Grove well managed for wildlife, safe and insured for its visitors and volunteer workers as well has caring for the sheep. If you can afford a donation we (and the sheep) would be very grateful.
We prefer online donations via our website and people tend to search "Noakes Grove" rather than remember our long web address, which can take you back here to the Uttlesford Wiidlife website by mistake, please use the link beneath to go to the Organic Countryside website from where you can make a donation.
Lockdown Visits to Noakes Grove
The number of family groups enjoying their visits to Noakes Grove has increased a lot during lockdown. Now you can arrange to visit in groups of up to six people even if they are not from the same household. It is still important to keep at least two metres from those of your group who are not part of your household and from any other groups of visitors. Please, if at all possible, travel to and from Noakes Grove on foot or by bicycle.
Work Parties
While we cannot restart our regular work parties as yet, if you would like to help with some work on the reserve (on your own or in a group of no more than five) please email us (info@organic-countryside.co.uk ) to fix a time when one of our regular volunteers can join you on your task.
Two requests for visitors with children:
When in the wood, please (everyone) keep to the paths which have no vegetation on them. Trampling off the paths is damaging the bluebell plants and other wild flowers.
Enjoy the pond but please stop children throwing sticks into it.
If you are "home-schooling" your kids, by walking with them to visit Noakes Grove, we would love to see any pictures, stories or poems your children create during or following their visit. If you contact us in advance of your visit (david@organic-countryside.co.uk ) before your visit we may be ble to loan you pond-dipping or bug-hunting kit.
The Latest Newsletter can be seen here https://www.organic-countryside.co.uk/newsletter.html
---
We raise sheep and lambs in the meadow. As well as the meadow we have a small ancient woodland, a rough flower-rich field and an area of thorn scrub criss-crossed with grassy rides that possess a marvellous array of wild flowers, including several rarities. It is a truly beautiful place. The public are welcome visit Noakes Grove at any time, and we encourage use by community groups. We also hold occasional open days, wildlife events and regular work parties where volunteers help with conservation tasks – see below for more details.
Visiting Noakes Grove is free, but maintaining Noakes Grove ( liability insurance and regular tree surgery, for example). If you enjoy visiting Noakes Grove, please consider making a donation or becoming a Friend (you can do this online through our website: www.organic-countryside.co.uk.
Footpaths from Saffron Walden

Work Parties
Unsurprisingly all work parties are cancelled at the moment,
Hope everyone is staying safe and well.
All the best until we are able to meet again,
Finally, we're very excited about being one of Tesco's Bags of Help good causes in April, May and June. We're hoping to encourage families (and other visitors) to come to the reserve and enjoy the well-documented benefits of being outdoors, and will use the money to run events and buy equipment and – if we raise enough – to make a pond-dipping platform. We'd be very grateful if you'd support us when you do your shopping.
Children's Birthday Parties
We occasionally host birthday parties at Noakes Grove, with nature-based activities and campfire cooking (from £120); all fees go towards managing the reserve. If you'd like to find out more, please visit the website or contact Emma Horton ( emmylou.horton@gmail.com or 01799 513696).