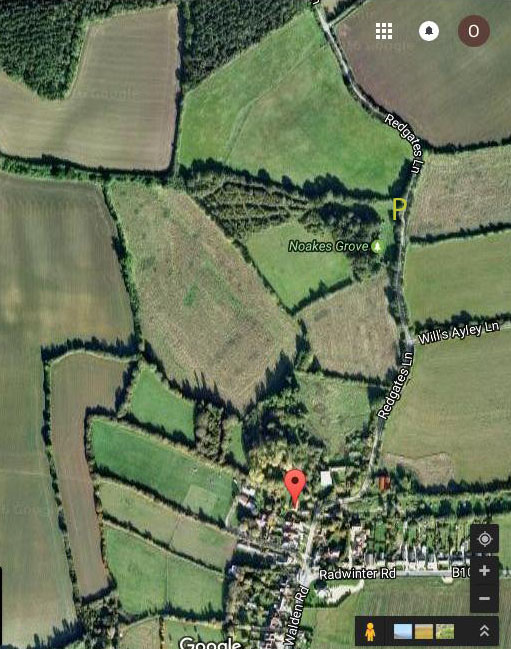 A nature reserve close to Sewards End, The yellow "P" on the map marks the gated (not locked) entrance to car park. The red marker shows where "CB10 2LW" will get you using a satnav. Then go north on Redgates Lane.
Noakes Grove belongs to Organic Countryside Community Interest Company: a not-for-profit organisation that anyone may join as a "friend" (annual subscription £5) or full (life) shareholder (£100 minimum). The smallholding is managed in a completely organic way
We raise sheep and lambs in the meadow. As well as the meadow we have a small ancient woodland, a rough flower-rich field and an area of thorn scrub criss-crossed with grassy rides that possess a marvellous array of wild flowers, including several rarities. It is a truly beautiful place. The public are welcome visit Noakes Grove at any time, on foot and with well-behaved children and dogs. There is a Forest School for very young children, occasional open days to study the wildlife and regular work parties for those willing help manage the nature reserve. Full details on the www.organic-countryside.co.uk website.
Visiting Noakes Grove is free, but maintaining Noakes Grove (just to pay the insurance and tree surgery costs for example) costs a lot. If you enjoy visiting Noakes Grove, please become a "Friend of Noakes Grove" for a donation of £5.00 per year per household. You can join online at www.organic-countryside.co.uk. We'll keep you informed (by email) of special events and when any of our produce (lamb, apple juice) is available for purchase.
Footpaths from Saffron Walden
Events
APRIL 2018
Waitrose is helping Noakes Grove this month
The Saffron Walden branch of Waitrose has chosen Noakes Grove (Organic Countryside CIC) as one of the three local good causes to support in April. We will receive a share of the £1000 they award each month but how big a share will depend on you.
If you shop at Waitrose, please pick up your charity tokens when at the check-out and put them in the Organic Countryside collecting box on your way out. And please tell your friends!
April work party at Noakes Grove
Sunday 15th April 10.00 am – 3.00 pm – come any time
This is our last monthly work party before we take a break to leave the nesting birds undisturbed.
We want to make a Spring survey of all the plants that are in flower as well as removing the uneaten hay from the sheep meadows, to ensure the best conditions for our orchids and other wildflowers that will be growing on these meadows later in the year.
We will fire up the rocket stove to make sure there are plenty of hot drinks for everyone.
Finally, we plan to check that all the paths and rides are open and accessible in readiness for the Open Day.
Noakes Grove Open Day – Lambs & Wildlife Day
Saturday May 5th from 10:00 am – 4:00 pm
The lambs are due to be born in mid-April and we hope the bluebells will still be putting on a good show. Activities throughout the day will include:
Puppet Show and story telling
Moths and Mice traps (see what we catch in catch-alive traps)
Bug hunt
Toddlers' and baby area
Refreshments
Open fire cooking – sausages and nettles
Guided tours or self-guided
Meet the sheep
Entry donations: We don't ask for a donation from our existing "friends" and "shareholders" but we would like some help from other visitors. A donation of at least £5 per car will give one of your group a year's membership as a "Friend of Noakes Grove".
Finding Noakes Grove: There will be special road signs for Noakes Grove showing directions starting in the middle of Sewards End. Or you can download and print a map from our website or put CB10 2LW in your SatNav (this takes you to Redgates lane, then follow the signs).
Volunteers for the Open Day
We need some volunteers to help at the open day, there are lots of ways you could help for example:
"Meet and Greet" desk at reserve entry
Car parking guidance
Refreshment stalls
Any of our other activities listed above, where you have some relevant skills
Please email david@organic-countryside.co.uk with offers of help. Thank you.
Winning the Essex Lottery
In the few months since the weekly lottery started we have received over £70 as our share of the income from ticket sales to our supporters.
One of our supporters has just told us that she has won one of the weekly prizes: not the £25,000 jackpot unfortunately. Maybe you will be more lucky? Tickets cost £1.00 per week and we receive 50p for each one you buy.
Please visit our page on the Essex Lottery website < https://www.essexlottery.co.uk/support/organic-countryside-cic > to find out more and buy your tickets
Children in Retreat
Nikki Phillips will be running more of her popular mindfulness retreats for children at Noakes Grove this year.
The next sessions are in the Easter holidays: 9th 11th and 12th of April. just in the mornings from 10.00 – 12.00.
Then they will run each Tuesday at 4.00pm from Tuesday the 17th of April onwards.
For more information contact:
Nikki Phillips (Youth Mindfulness – Relaxation Therapist ITEC IIHHT DIP, SMT)
Website: nikkiphillips.co.uk Email: info@nikkiphillips.co.uk