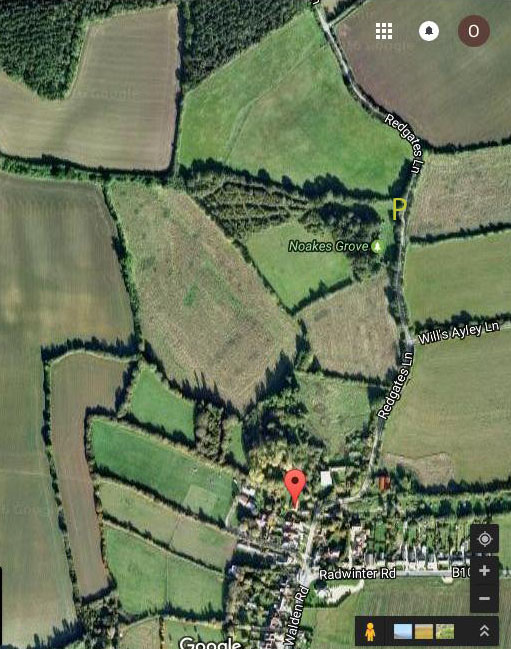 A nature reserve close to Sewards End, The yellow "P" on the map marks the gated (not locked) entrance to car park. The red marker shows where "CB10 2LW" will get you using a satnav. Then go north on Redgates Lane.
Noakes Grove belongs to Organic Countryside Community Interest Company: a not-for-profit organisation that anyone may join as a "friend" (annual subscription £5) or full (life) shareholder (£100 minimum). The smallholding is managed in a completely organic way
We raise sheep and lambs in the meadow. As well as the meadow we have a small ancient woodland, a rough flower-rich field and an area of thorn scrub criss-crossed with grassy rides that possess a marvellous array of wild flowers, including several rarities. It is a truly beautiful place. The public are welcome visit Noakes Grove at any time, on foot and with well-behaved children and dogs. There is a Forest School for very young children, occasional open days to study the wildlife and regular work parties for those willing help manage the nature reserve. Full details on the www.organic-countryside.co.uk website.
Visiting Noakes Grove is free, but maintaining Noakes Grove (just to pay the insurance and tree surgery costs for example) costs a lot. If you enjoy visiting Noakes Grove, please become a "Friend of Noakes Grove" for a donation of £5.00 per year per household. You can join online at www.organic-countryside.co.uk. We'll keep you informed (by email) of special events and when any of our produce (lamb, apple juice) is available for purchase.
Footpaths from Saffron Walden
Events
Noakes Grove evening party – Tuesday July 2nd – 7.30pm
Refreshments round the camp-fire barbecue, an evening nature ramble around the reserve and, as dusk falls, a chance to try our bat detectors and see what our moth trap attracts.
The evening will also include the Annual General Meeting (of Organic Countryside CIC – the official name of Walden Countryside
Agenda
Minutes of the 2018 AGM
To approve (or not) our annual accounts and report (only shareholders have a vote on this).
To (Re) Elect our directors (please email us with any nominations for a place as director. Both the nominee and the proposer must be shareholders.)
To discuss any points you wish to raise (not just shareholders – any of our supporters).

The AGM is not expected to last more than 20 minutes and it will speed things up if you take a moment to read the short official documents beforehand (all three are printer friendy pdfs):
PS If you are not already a shareholder, but would like to become one in time to take a full part in the AGM just Click here.
Summer Work Parties
Our autumn and winter work parties will resume in September, when we will be concentrating on widening the rides through the scrub land and dealing with the fallen timber, converting it into saleable logs or stacking it as wildlife habitat.
Right now we need some help creating our new haystack and finishing the renovation work on our new "stable block". It needs its guttering finished and two waterbutts installed, as well as fitting out the inside once electricity is available using our new solar panels. If you fancy some barn storming and hay stacking, please join us on:
Sunday 23 June (anytime from 10 am to 4 pm)
Children's Birthday Parties at Noakes Grove Nature Reserve
When can we have our party?
Weekends or possibly after school. We can only run a couple of parties each month, so please make a reservation as early as possible.
Contact
Emma Horton on 01799 513696 or 07981 296921,
or email emmylou.horton@gmail.com.
What kind of activities will there be?
We're happy to discuss ideas with parents, but our aim is to offer kids the chance to develop outdoor skills and experience nature activities. We can supply food for campfire cooking (sausages, potatoes, self-harvested nettles!) and the services of two party organisers. As well as building a fire, cooking on it (and eating), choose from: pond dipping, bug hunting, nature scavenger race, den building, running around games, nature craft activities, storytelling (younger kids)/puppet workshop (older kids).
What else do I need to know?
Age range: 6 -12 years.

Between 6 and 16 kids per party.

Cost: £120 for up to 10 children, then £10 per child up to a maximum of 16. Parties last for up to three hours at a time to suit you and your children. We supply food for camp-fire cooking and the services of two party organisers.

Children must come dressed for romping in the undergrowth: strong shoes, preferably trousers and long sleeves, jumpers and waterproofs if the weather is likely to be cold or wet. No party dresses!
What's not included?
Food and drink for any parents who are staying.

Food for children with special dietary requirements – we're happy to cook it if you bring an alternative (please discuss this with us in advance).

Birthday cake/party bags – but you are welcome to bring these with you.
Any rules?
The reserve is mainly managed for the benefit of wildlife and we avoid doing anything that would damage their habitats or cause them harm. So no balloons or sky lanterns.
What if the weather is awful?
If there is heavy rain, parents have the option of cancelling at least an hour ahead and getting a booking on another day at no extra cost, or going on regardless.
Erm, is there a loo?
We hope soon to be able to install a composting toilet at the reserve for essential use; wees have to be wild at the moment.
Who are the organisers?
The staff running the party are conservation volunteers. They are all DBS checked, know the geography and wildlife of Noakes Grove well and are experienced with teaching natural history to children.
What do we do with your money?
The price includes VAT, which we have to pay, and the cost of insurance. After our expenses, it will all be used to help maintain the nature reserve.