Map Ref: TL 573 412
Public Transport – Bus 59 Saffron Walden to Ashdon – irregular service.
Dogs allowed if under effective control. Please clean up after your dog.
Directions: On the main road from Saffron Walden to Ashdon, about half a mile before the village Church. Entrance to the reserve is by a track at the side of 'Barleycroft' bungalow. Park on the opposite side of the main road. The track can be difficult in wet weather.
Designation:
Site of Special Scientific Interest
Access
Accessible at all times but paths are unsurfaced and unsuitable for wheelchairs.
What to look for:
Shadwell Wood is a 17.5 acres Oxlip woodland with Oak and Ash trees and coppiced Hazel and Maple growing between them. Shadwell Wood is managed so that a host of our woodland flowering plants grow on the woodland floor. Early spring brings Oxlips, Wood Violets and Wood Anemones. These give way to Early Purple Orchids, Bluebells, Bugle and Herb Paris. Summer brings Common Spotted Orchids, Meadowsweet and Sanicle.
The wood is managed in the traditional manner by coppicing, cutting a section to the ground each year, from which it quickly regrows. This is the way the wood was used for centuries, producing wood for tools, fences, fires and housebuilding in the local area. The differing stages of regrowth encourage many summer visiting birds to nest, and provide open sunny areas for ground layer plants to flower, and for butterflies to feed. Fencing is used to exclude deer from the wood otherwise they would browse the tender coppice regrowth, killing or stunting the trees, and would eat the flowers.
Here are two slide show galleries about the art of coppicing; the first is a general explanation of the process, and the second follows this year's coppiced area
The Coppice Cycle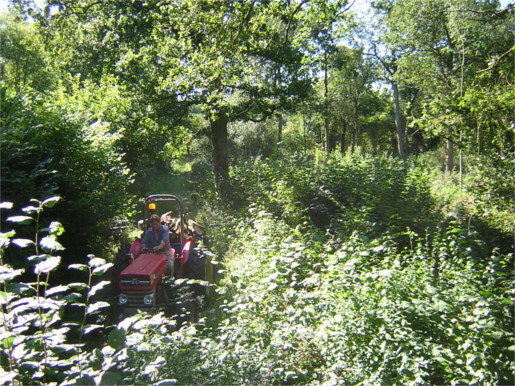 Picture 1 of 5
A working coppice wood is a mosaic of patches of woodland at different stages of regrowth, height and complexity. The more variety in structure, the more different habitats are created, and the more species the wood can hold. The paradox is, that cutting down the wood at intervals and letting it regrow improves the species diversity. The following photos show the successive stages after coppicing.
The second slide show is a collection of photos taken from a fixed point in the area which has been cut this winter – 2017 to 2018. It was last cut in 1998, and 20 years is about as long as it should be left to grow for, otherwise the Hazel stools are in danger of dying out. These photos begin in November 2017 and will be added to as the year progresses, to document the regrowth of the ground flora and coppice stools.The photos will change every 6 seconds.